History of the Plantation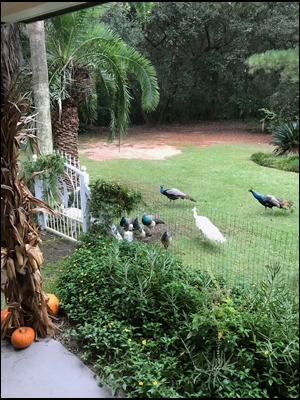 The Fairhope Tea Plantation had a simple beginning in September 1979 when Donnie Barrett was dumping hurricane debris at a Corps of Engineers dump site which happened to be the childhood home of Donnie on the Auburn University Research and Extension Center in Fairhope Alabama.
The Lipton Tea company had been conducting tea growing experiments at the "Substation," as we called it. At the time of Hurricane Frederick in 1979, the experiment was terminated because of the storm or they obtained their results. No report was ever released, nor were any of the farm staff informed of any purpose for the teas plots. Lipton paid for the experiment, terminated it and took all their files, data and results and left the Fairhope facility.
The day Donnie was dumping stumps from his yard he had brought his father Bill Barrett, the facility administrator, out in the fields because his Dad "wanted to show him something … Look what they did to the tea!"
The three-four year old plants had been planted in neat rows in orderly test plots. We were marveled to see the plants that tea comes from and couldn't imagine how they got the tea we drank daily out of those plants. We read with wonder the Chinese names of the labeled varieties.
But, when we were dumping the logs and stumps, the young, three foot tall tea plants had been bulldozed into piles, covered with diesel fuel and burned. The piles we were looking at were actually scrapped up burn piles themselves dumped at the debris collection site. The plants had been growing only a couple hundred yards away.
People had already been digging through these piles and taking the better looking plants. Donnie's father said "Here, get you up some." Donnie unenthusiastically picked out three pretty good looking ones and looked closely at the leaf patterns to get three different varieties. He learned later that there were four varieties there. Donnie and his Dad, loaded the root balls into Donnie's pickup truck. Donnie always said "I wish I'd paid more attention to the day and event that would change my life."
Learning to Grow Tea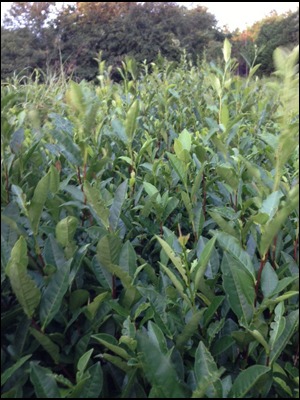 The well known tea expert looked at Donnie in 2007 and sharpened his chin and said "No one just figures out how to grow tea." But, Donnie had a "leg up" on successfully growing the tea plants. His father, an agricultural research scientist, had been a camellia collector, developing varieties and entering camellia shows. The Barrett family all took part in the cultivation and propagation of camellias. When Donnie was 13-14, he rooted camellia sasanqua cuttings and sold them in gallon pots a year later for $1.00. He had gotten good at cleft grafting and air layering.
Also, when Donnie was studying Wildlife Biology at Auburn University he took several Forestry classes. During the routine labs, Donnie fell in love with Mountain Laurel. It was a climax species, grew in communal clusters, was not bushy, but thin and "sticky'" and was very picky about growing conditions. With the help of Auburn's naturalists' horticulturist, he grew them in pots and plantings, and controlled conditions to learn to have this climax specific plant thrive. The tea plant is very similar to mountain laurel. Donnie uses these horticultural techniques to this day, developing his program for tea culture.
The three original root balls (which he planted at his parent's home because the hurricane had destroyed his) established quickly and produced leafy growth immediately. Then came one of the original questions, "how do you get that sweet syrupy drink called tea out of these plants?
Making Tea from Fresh Leaves
Because of the new technological advancement of direct telephone dialing, Donnie called tea companies, distributors and bulk processors inquiring just how to make tea.  "You put our tea bags in boiling water" was the general answer and when asked how to make tea from green leaves all that could be heard was silence.  They did not know.  At last a gentleman in Virginia said "Look Son, (Donnie will always remember he was called  "son") it's a family and industrial secret and no one is going to tell you how to make tea."  He was completely right.  Have you ever seen the recipe for Coca Cola?
This quest led Donnie to China.  He first went there in 1984 where there were no western influences and the country was still quite primitive.  Much different from later visits seeing China explode into a modern, rat-race culture.  Instead of coming to a new tourist destination and visiting the parks and pagodas, he would choose to go out into the country to the tea producers.
With a camera around his neck, bobbling along as a mindless tourist, he went through one factory after another.  Some simple, some technologically advanced.  They would introduce what they were generally doing and the tour group would pass along, but he knew what he was looking at.  He returned back to Fairhope to make tea.  It took ten years before Donnie's Fairhope Tea was good quality.
Donnie and his wife Lottie moved to the South Fairhope farm in 1990 where he had hundreds of young plants ready to be planted in rows.  The tea farm was first called Hurricane Blend, then Lytermanor Tea Farm. When a business in New Hampshire who was buying his first bulk tea for frozen tea sickles because they thought it was "light," they changed the name again. The name Fairhope Tea Company worked for awhile until a Yankee tourist said "I'll bet you have a plantation," so they changed it to Fairhope Tea Plantation in 1996.
Donnie built a 6X15 foot cold frame rooting house in 1992, and another larger one in 2003 and would make thousands of cuttings each year.  He would plant rootings in the winter by the thousands, reaching a point in 2015 where a rough count put them at or near 61,000 plants in fifty foot rows with 1,000 plants per row.